This is what you need to know about our camera packs! We give you an overview of what really matters in the Design or Functionality of the f-stop System. Furthermore, we give an outline of what thoughts go into building this f-stop System, designing our packs, the build, the carrying system, and most importantly, the modular design of f-stop Packs. This article focuses on providing an Overview to better understand
What you need to know about the f-stop System
A camera backpack needs to be tailored to the needs of photographers. Everyone has different gear, scenarios and where they bring the gear.
Photographers are no strangers to the ever-evolving world of camera gear. The need to carry various lenses, camera bodies, accessories, and sometimes even drones has led to a demand for camera bags that offer both protection and organization. Since its founding, f-stop has specialized in providing technical camera bags for serious visual storytellers with flexible camera insert arrangements. f-stop is known for its rugged build, comfortable carrying system, and, most importantly, the modular system. As a result, the f-stop System allows users to customize their packs to their exact specifications.

We have more articles diving into the Camera Inserts or also the Differences between the packs so make sure to check out our blog for more.
How to pick the right pack for your needs
It really comes down to understanding your needs first and the purpose your pack needs to fulfill. As an outline, the f-stop System consists of the pack itself and then furthermore the Camera Insert which is actually the heart of the Setup. The main purpose the pack needs to fulfill is to carry and protect your camera of course! After all, we have a range of sizes and styles of packs and Inserts to cater to different preferences and gear requirements. Whether you need a compact daypack for a short hike, a big backpack for an extended photo expedition, or Cine gear.
A few points to keep in mind:
There is not one pack to fit each and everyone out there and in every situation - The needs vary!
Therefore each of our packs is made to serve a purpose depending on your Adventure and Needs.
However, all of the backpacks share the need for comfort, durability in various weather conditions, and gear protection.
With the Modularity and different Options of Shells ( aka Backpacks), we provide the best possible option and help find the perfect balance for your specific gear and outings.
Additional important questions you would need to answer yourself are:
What gear do you need to carry? ( referring to your main camera kit)
What extra gear do you intend to carry? ( clothing, food, etc.)
What environment do you intend to bring the pack to mostly? ( a lot of rain, snow, or just day hikes)
how long do you intend to carry your pack? ( 1-3 hours, single day trips, multiday trips or expeditions)
When you answer these questions you are on the best track to finding your perfect setup.
The Design of Our Camera packs
Overview of the Construction and Build
Since f-stop Camera Packs and Bags are technical Camera Carry solutions they are designed with high durability and rugged construction to last for years. Following this mindset, we design and develop all of the packs packed with practical features that make it a highly advanced tool for your equipment to withstand the demands of outdoor photography. All the following points make the packs ideal for photographers who venture into challenging environments
Technical design and weather resistance
From Water-resistant materials, welded seams (to avoid perforation through stitching), and reinforced weather-resistant Zippers. Additionally, we include numerous useful features like for example the drainage hole on the bottom of the front pocket to let moisture out. All things considered, the technical design aspects ensure that your gear stays protected even in adverse weather conditions.
Comfortable Carrying System
First and foremost, the backpack-style design of f-stop Camera Packs prioritizes comfort during long hikes or photo expeditions. In order to ensure the best weight distribution, all Mountain series packs come with an Aluminium frame. Padded shoulder straps, a ventilated back panel, and adjustable chest and waist straps distribute the weight of the bag evenly. This is crucial to reduce fatigue.
Rear Access Points:
Evidently, f-stop Camera Packs feature a rear access point to the main compartment. This facilitates quick and convenient access to your camera gear and keeping it safe.
To point out the top two advantages of having a bag panel access to your camera gear are first and foremost protection against the elements and secondly safety.

The bag will lie on the front ( when on the ground ) so you have access to the main compartment therefore it will stay clean.
While you have the bag on your back, you will easily notice any attempt by someone to access your camera without your permission.
A Modular Camera Insert System
One of the standout features of f-stop Camera Packs is the modular camera insert system. The heart of this system is the Internal Camera Unit (ICU). The Camera Unit is a padded customizable insert that can be easily swapped between different f-stop bags. The Camera Insert comes in various sizes to accommodate different camera setups ranging from mirrorless cameras to professional DSLRs and even cinema cameras. The adjustable dividers within the Camera Insert allow photographers to create custom compartments for their camera bodies, lenses, and accessories. The modularity of the Camera Inserts allows users to adapt their bags to various shooting scenarios.
Other Design Features
Customizable Exterior
f-stop packs come with various attachment points for our Gatekeeper Straps. Therefore this customization allows visual storytellers to tailor their packs to their specific needs. You can extend the carry load if needed and carry additional items like tripods, water bottles, or trekking poles. On top of that, you can add accessories to the outside of the pack with the featured Mollee System on the Mountain Series Hip-belt.

Accessories
Our variety of accessories are designed to complement your camera pack which also helps to enhance organization and protection for lenses, drones, and small accessories. We offer Gadgets like a Dronecase, Packing Cell Kit, Accessory Pouches, and more.

Hydration Compatibility
Moreover, f-stop packs are designed to accommodate hydration reservoirs, making them suitable for both photography and outdoor activities. In all our Mountain series or Ultralight series, you'll find a Multipurpose sleeve to hold a Water bladder. Look for the Hyperloon lash with H2O written on it. This is intended for a Water bladder Tube to go through. Aside from this, some of our packs feature Mesh Side pockets to carry a water bottle on the outside of your pack. Packs with the Mesh Side pocket are the Kashmir, Loka, Ajna, or Shinn. Each pack has a Side or front pocket to fit a Nalgene bottle.

Conclusion
Whether you're a landscape photographer, a wildlife enthusiast, or a documentary filmmaker, f-stop's modular system allows you to protect and organize your gear efficiently. As the world of photography continues to evolve, we offer you a trusted companion for visual storytellers and photographers who demand flexibility and functionality from their camera bags.
If you need advice or have questions please do not hesitate to reach out! We are here to help
---
Need further help or assistance?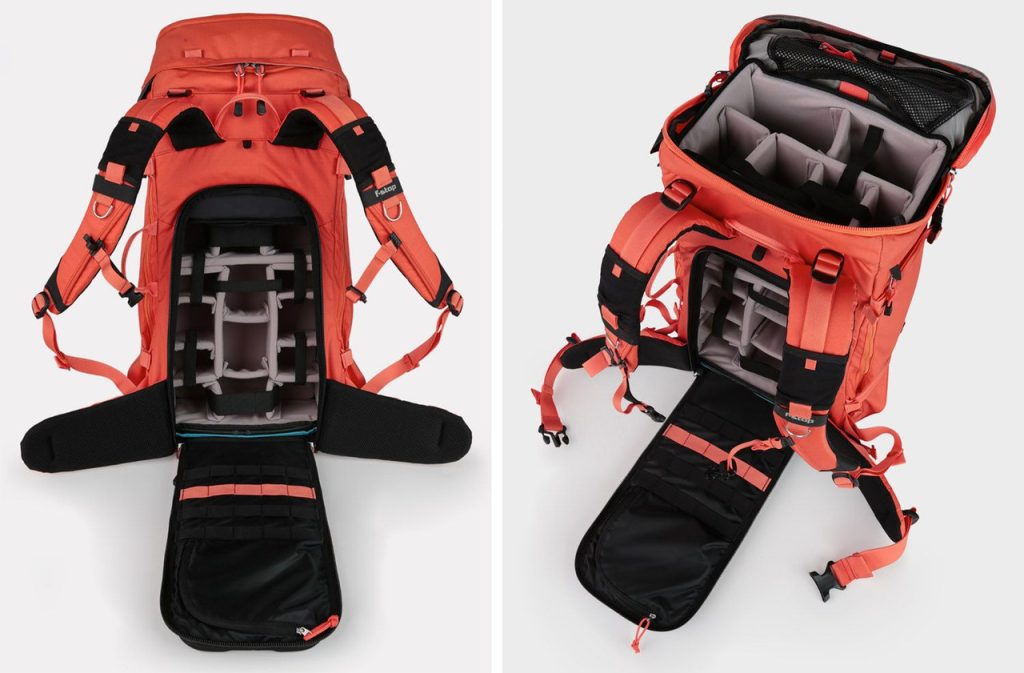 Camera Bag Insert Compatibility Chart
Although many Camera Insert options are available, users are not limited to a single option per bag. This is something we address in this f-stop Tips & Tricks about different options for arranging your gear which we call: Camera Insert stacking and hatch-backing.
Our Mountain Series systems have become widely recognized for their comfort and modularity. A feature our hardware people always speak highly about has been the compatibility with our Camera Insert system ( also known as the Internal Camera Unit (ICU). It enables users the ability to balance their load and compartmentalize their gear. Aside from this, there are different arrangements
Stacking and Hatchbacking Defined
Camera Insert stacking is simply placing one Camera Insert on another. Position the camera units to both be accessible through the rear.
Camera Insert hatch-backing is stacking and rotating a small-sized camera insert for access from the top. One thing to be aware of when stacking the Insert is the size of the opening of your f-stop pack.
For example, a Lotus has a rear access opening the size of a large Camera Insert.
Stacking two Medium Camera Inserts on top of each other exceeds the bag panel's opening size. This is not that practical and it is much easier to arrange another way.
However, a small Camera Insert paired with another small Camera Insert on top will work just fine. The two equal the size of a large one in terms of height. With this arrangement, you can comfortably access the gear.
Rear Panel, Bag Panel opening
The rear panel opening on the Lotus and Kashmir is 16" ( 40.6cm ) while the opening on all of the larger bags is 17" ( 43.2cm ). The depth will vary, but all of the packs are at least 7" in max depth. When choosing a Camera Insert-compatible bag, note that larger bags provide extra volume but also have higher empty weights to support heavier loads.
Please reference the compatibility chart to see what combinations work best with each of our current Mountain Series bags.
Find the perfect Pack & Camera Insert combination
For those needing to utilize the entire main compartment for strictly camera gear that potentially varies, Camera Insert stacking is one of the most efficient methods of doing so. There are countless configurations possible.
The ability to stack and separate different kits could be the optimal setup for your workflow. With different arrangement options, you can choose to bring what you need and adapt it to your specific kit.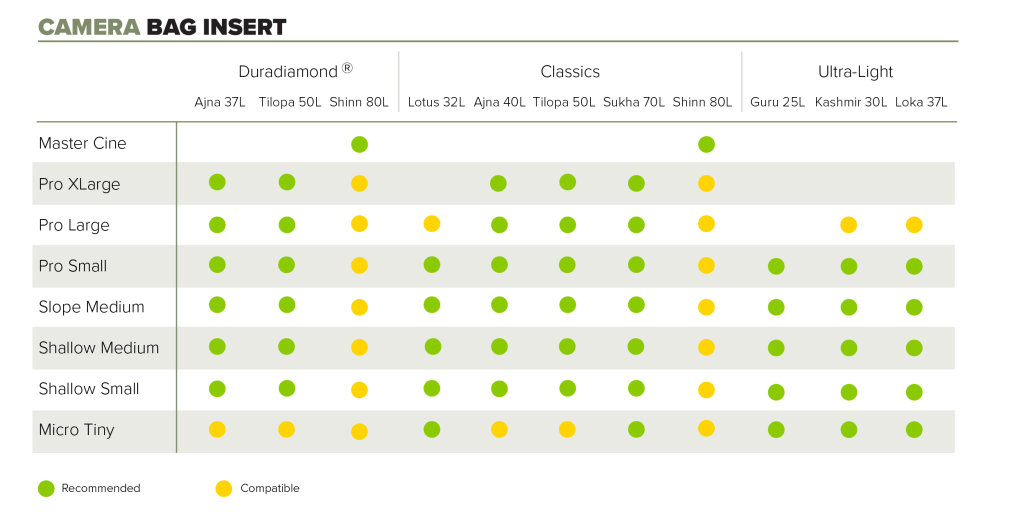 ---
The heart of each Camera Pack is the Internal Camera Unit which carries your kit. The Camera Inserts are interchangeable and each pack is compatible with various Camera Inserts.
We will visually guide you through the diverse Configurations that you can achieve with each individual pack.
Overview
Not every pack is compatible or recommended to go with each Camera Insert. For instance, the Shinn 80 L is designed to accommodate large camera/video equipment. To fulfill this purpose, both the pack as well as the Cine Master insert have greater depth compared to other packs. The Cine Master Camera Insert is significantly deeper than the Pro XL Camera Insert. Therefore, when you are using an XL Camera insert it will not fill out the pack fully. As a result, you can avoid any movement of the Camera Insert in the pack you can attach it to the side attachment loops inside the pack ( next to the Aluminium frame)
Camera Insert Compatibility Mountain Series
Camera Insert Compatibility Ultralight Series
Fitting Guide - Camera Inserts
Furthermore, when choosing your Camera pack, you also want to consider how much extra room you need for additional equipment such as clothing, food accessories, etc. Gain a sense of the available extra space in the Packs with a variety of compatible Inserts.
Learn more about how to select the best Camera Insert for your needs.
https://shuttermuse.com/f-stop-icu-size-guide/
---