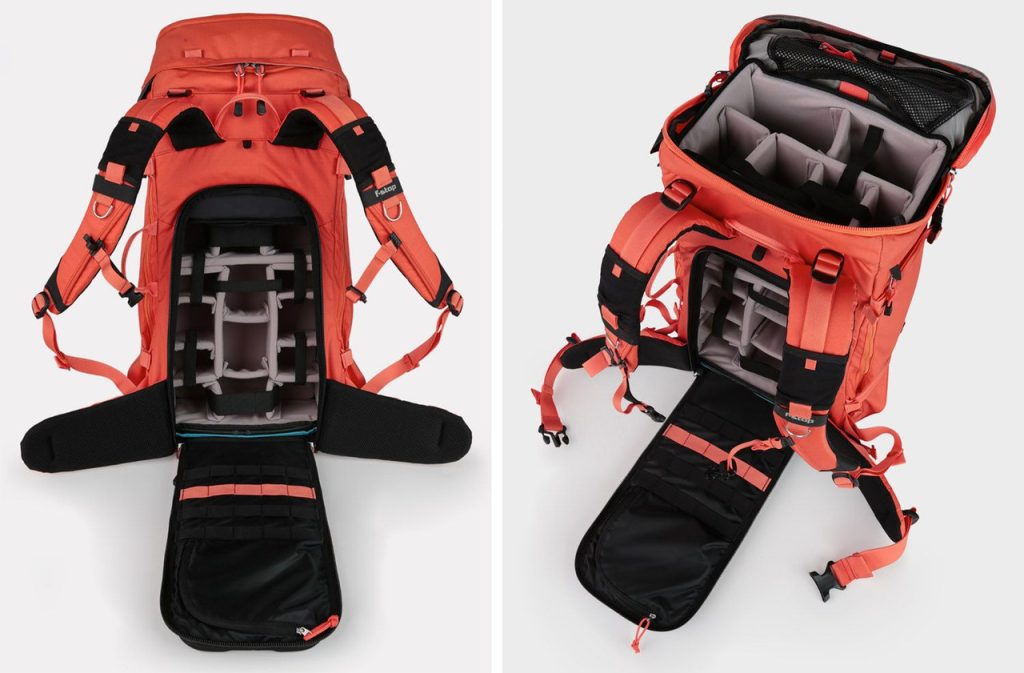 Camera Bag Insert Compatibility Chart
Although many Camera Insert options are available, users are not limited to a single option per bag. This is something we address in this f-stop Tips & Tricks about different options for arranging your gear which we call: Camera Insert stacking and hatch-backing.
Our Mountain Series systems have become widely recognized for their comfort and modularity. A feature our hardware people always speak highly about has been the compatibility with our Camera Insert system ( also known as the Internal Camera Unit (ICU). It enables users the ability to balance their load and compartmentalize their gear. Aside from this, there are different arrangements
Stacking and Hatchbacking Defined
Camera Insert stacking is simply placing one Camera Insert on another. Position the camera units to both be accessible through the rear.
Camera Insert hatch-backing is stacking and rotating a small-sized camera insert for access from the top. One thing to be aware of when stacking the Insert is the size of the opening of your f-stop pack.
For example, a Lotus has a rear access opening the size of a large Camera Insert.
Stacking two Medium Camera Inserts on top of each other exceeds the bag panel's opening size. This is not that practical and it is much easier to arrange another way.
However, a small Camera Insert paired with another small Camera Insert on top will work just fine. The two equal the size of a large one in terms of height. With this arrangement, you can comfortably access the gear.
Rear Panel, Bag Panel opening
The rear panel opening on the Lotus and Kashmir is 16" ( 40.6cm ) while the opening on all of the larger bags is 17" ( 43.2cm ). The depth will vary, but all of the packs are at least 7" in max depth. When choosing a Camera Insert-compatible bag, note that larger bags provide extra volume but also have higher empty weights to support heavier loads.
Please reference the compatibility chart to see what combinations work best with each of our current Mountain Series bags.
Find the perfect Pack & Camera Insert combination
For those needing to utilize the entire main compartment for strictly camera gear that potentially varies, Camera Insert stacking is one of the most efficient methods of doing so. There are countless configurations possible.
The ability to stack and separate different kits could be the optimal setup for your workflow. With different arrangement options, you can choose to bring what you need and adapt it to your specific kit.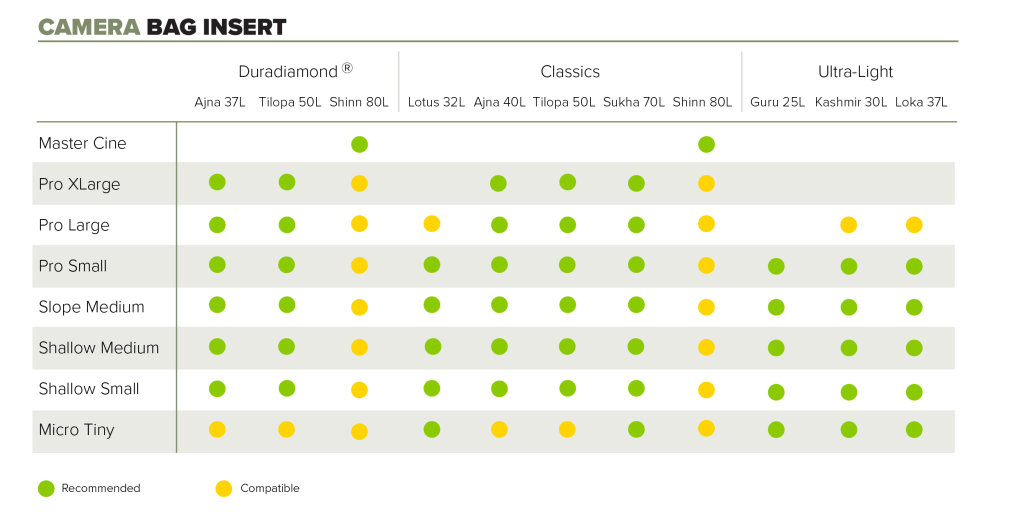 ---