This is what you need to know about our camera packs! We give you an overview of what really matters in the Design or Functionality of the f-stop System. Furthermore, we give an outline of what thoughts go into building this f-stop System, designing our packs, the build, the carrying system, and most importantly, the modular design of f-stop Packs. This article focuses on providing an Overview to better understand
What you need to know about the f-stop System
A camera backpack needs to be tailored to the needs of photographers. Everyone has different gear, scenarios and where they bring the gear.
Photographers are no strangers to the ever-evolving world of camera gear. The need to carry various lenses, camera bodies, accessories, and sometimes even drones has led to a demand for camera bags that offer both protection and organization. Since its founding, f-stop has specialized in providing technical camera bags for serious visual storytellers with flexible camera insert arrangements. f-stop is known for its rugged build, comfortable carrying system, and, most importantly, the modular system. As a result, the f-stop System allows users to customize their packs to their exact specifications.

We have more articles diving into the Camera Inserts or also the Differences between the packs so make sure to check out our blog for more.
How to pick the right pack for your needs
It really comes down to understanding your needs first and the purpose your pack needs to fulfill. As an outline, the f-stop System consists of the pack itself and then furthermore the Camera Insert which is actually the heart of the Setup. The main purpose the pack needs to fulfill is to carry and protect your camera of course! After all, we have a range of sizes and styles of packs and Inserts to cater to different preferences and gear requirements. Whether you need a compact daypack for a short hike, a big backpack for an extended photo expedition, or Cine gear.
A few points to keep in mind:
There is not one pack to fit each and everyone out there and in every situation - The needs vary!
Therefore each of our packs is made to serve a purpose depending on your Adventure and Needs.
However, all of the backpacks share the need for comfort, durability in various weather conditions, and gear protection.
With the Modularity and different Options of Shells ( aka Backpacks), we provide the best possible option and help find the perfect balance for your specific gear and outings.
Additional important questions you would need to answer yourself are:
What gear do you need to carry? ( referring to your main camera kit)
What extra gear do you intend to carry? ( clothing, food, etc.)
What environment do you intend to bring the pack to mostly? ( a lot of rain, snow, or just day hikes)
how long do you intend to carry your pack? ( 1-3 hours, single day trips, multiday trips or expeditions)
When you answer these questions you are on the best track to finding your perfect setup.
The Design of Our Camera packs
Overview of the Construction and Build
Since f-stop Camera Packs and Bags are technical Camera Carry solutions they are designed with high durability and rugged construction to last for years. Following this mindset, we design and develop all of the packs packed with practical features that make it a highly advanced tool for your equipment to withstand the demands of outdoor photography. All the following points make the packs ideal for photographers who venture into challenging environments
Technical design and weather resistance
From Water-resistant materials, welded seams (to avoid perforation through stitching), and reinforced weather-resistant Zippers. Additionally, we include numerous useful features like for example the drainage hole on the bottom of the front pocket to let moisture out. All things considered, the technical design aspects ensure that your gear stays protected even in adverse weather conditions.
Comfortable Carrying System
First and foremost, the backpack-style design of f-stop Camera Packs prioritizes comfort during long hikes or photo expeditions. In order to ensure the best weight distribution, all Mountain series packs come with an Aluminium frame. Padded shoulder straps, a ventilated back panel, and adjustable chest and waist straps distribute the weight of the bag evenly. This is crucial to reduce fatigue.
Rear Access Points:
Evidently, f-stop Camera Packs feature a rear access point to the main compartment. This facilitates quick and convenient access to your camera gear and keeping it safe.
To point out the top two advantages of having a bag panel access to your camera gear are first and foremost protection against the elements and secondly safety.

The bag will lie on the front ( when on the ground ) so you have access to the main compartment therefore it will stay clean.
While you have the bag on your back, you will easily notice any attempt by someone to access your camera without your permission.
A Modular Camera Insert System
One of the standout features of f-stop Camera Packs is the modular camera insert system. The heart of this system is the Internal Camera Unit (ICU). The Camera Unit is a padded customizable insert that can be easily swapped between different f-stop bags. The Camera Insert comes in various sizes to accommodate different camera setups ranging from mirrorless cameras to professional DSLRs and even cinema cameras. The adjustable dividers within the Camera Insert allow photographers to create custom compartments for their camera bodies, lenses, and accessories. The modularity of the Camera Inserts allows users to adapt their bags to various shooting scenarios.
Other Design Features
Customizable Exterior
f-stop packs come with various attachment points for our Gatekeeper Straps. Therefore this customization allows visual storytellers to tailor their packs to their specific needs. You can extend the carry load if needed and carry additional items like tripods, water bottles, or trekking poles. On top of that, you can add accessories to the outside of the pack with the featured Mollee System on the Mountain Series Hip-belt.

Accessories
Our variety of accessories are designed to complement your camera pack which also helps to enhance organization and protection for lenses, drones, and small accessories. We offer Gadgets like a Dronecase, Packing Cell Kit, Accessory Pouches, and more.

Hydration Compatibility
Moreover, f-stop packs are designed to accommodate hydration reservoirs, making them suitable for both photography and outdoor activities. In all our Mountain series or Ultralight series, you'll find a Multipurpose sleeve to hold a Water bladder. Look for the Hyperloon lash with H2O written on it. This is intended for a Water bladder Tube to go through. Aside from this, some of our packs feature Mesh Side pockets to carry a water bottle on the outside of your pack. Packs with the Mesh Side pocket are the Kashmir, Loka, Ajna, or Shinn. Each pack has a Side or front pocket to fit a Nalgene bottle.

Conclusion
Whether you're a landscape photographer, a wildlife enthusiast, or a documentary filmmaker, f-stop's modular system allows you to protect and organize your gear efficiently. As the world of photography continues to evolve, we offer you a trusted companion for visual storytellers and photographers who demand flexibility and functionality from their camera bags.
If you need advice or have questions please do not hesitate to reach out! We are here to help
---
Need further help or assistance?
How would you carry all of your camera gear plus a lot of camping gear?
You might do what f-stop Ambassador Pia Steen does when she wants to pack camera gear and camping gear. She loads up her Shinn 80L DuraDiamond® with everything from cine setups to long lenses.

One of Pia's passions is landscape photography which requires a lot of planning, time, and patience. Pia is often on multiple day tours and workshops. So she needs a pack with the capacity to carry EVERYTHING for several days, including clothing, a jacket, sleeping bag, camping stove, food, etc. Then, when planning short hikes away from camp and plan, Pia unpacks, reorganises and just takes the essentials for that day's hike.
One of Pia's mottos to get the best light is "Better to be two hours too early than just two minutes late" . She is using f-stop for more than 10 years now and her newest addition is the Shinn 80L DuraDiamond® ⁠

Whether you pack a Shinn 80L like Pia, or a smaller Mountain Series bag, you'll find multiple attachment points on all Mountain Series packs. You can use Gatekeeper straps to attach anything, most commonly a tripod, sleeping bag, etc. Pia carries a heavy tripod and attaches it to the front panel of the pack so there is equal weight distribution side to side. Equal weight distribution is key to comfortably carrying your loaded pack long distances. Additionally, Pia uses the front pocket to secure one or two tripod legs which stabilises the load and keeps everything secure – check out the photo below.

Happy Camping!
Words and photos by Alex Grymanis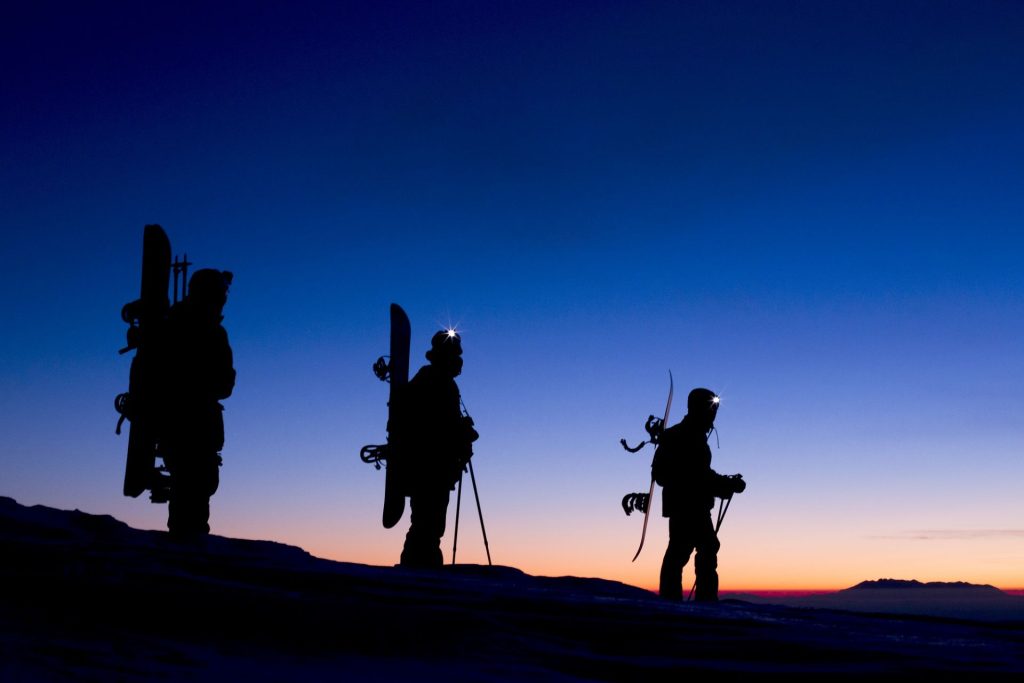 Snowboard photographers traverse the globe following the best riders and searching for the most epic snow conditions in far-flung locations. However, sometimes the most meaningful experiences can be found closer to home, as f-stop Ambassador Alex Grymanis found. He explored the beautiful landscapes of Northern Greece through snowboarding.
Greece might not be the first place that springs to mind for snowboarding, but for Alex, the trip gave him the chance to hit the road with close friends and re-experience what made them fall in love with snowboarding and adventure.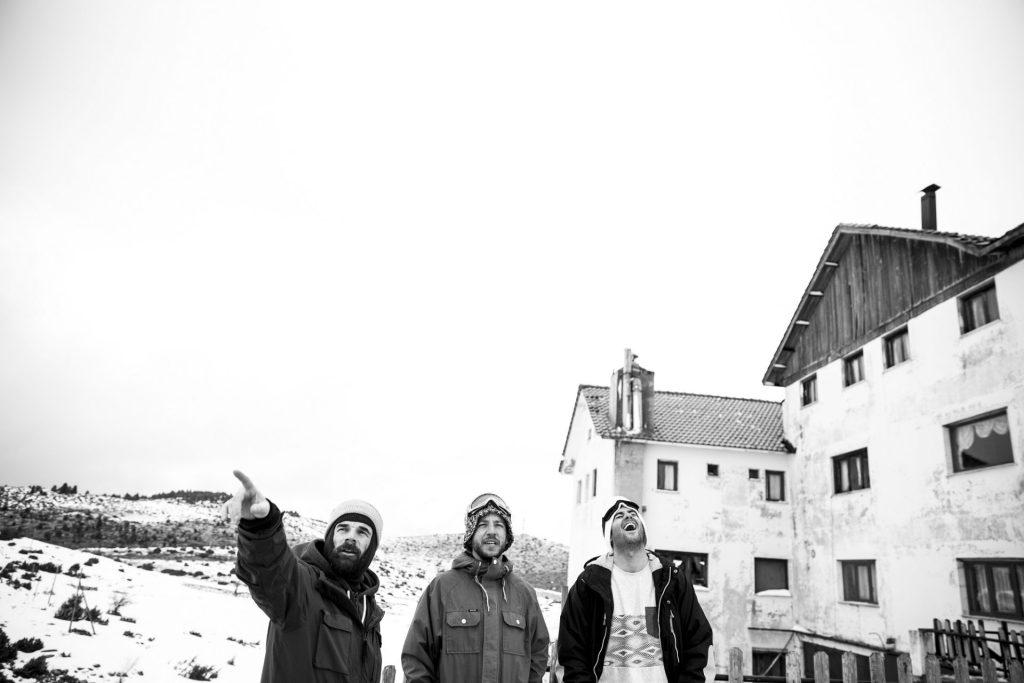 Introduction
Last February, almost a year ago, I traveled through northern Greece. This trip started with a few friends, in an RV, for 10 days in search of snow and new places in our country, Greece, where we could snowboard. The fact is that it came to be a trip about creativity, relaxing, and being once again carefree. During these 10 days not only did we become children again and remember the feeling of being away from the concrete and loud city, but we also learned how to coexist in a small, confined space and we reconnected with nature.
Now that a year has passed by, a book, a video, and these photographs keep that trip alive in our memory and make it possible to share this experience with you.
Chapter I
Hospitality
Everything seems fun and normal until you wake up the first morning surrounded by snow and by your friends all in a tiny four-wheeled house. The sweet lullaby from the wind and the sound of the trees at night become your guide and sooner or later you realize that you need to adapt to this new environment along with all of your gear, cameras, and wardrobe along with its frustrations. You learn to respect other people's privacy, needs, and weirdness and start working together as a team. In places without electricity and no internet, the real connection between you, your friends, and the people you meet happens.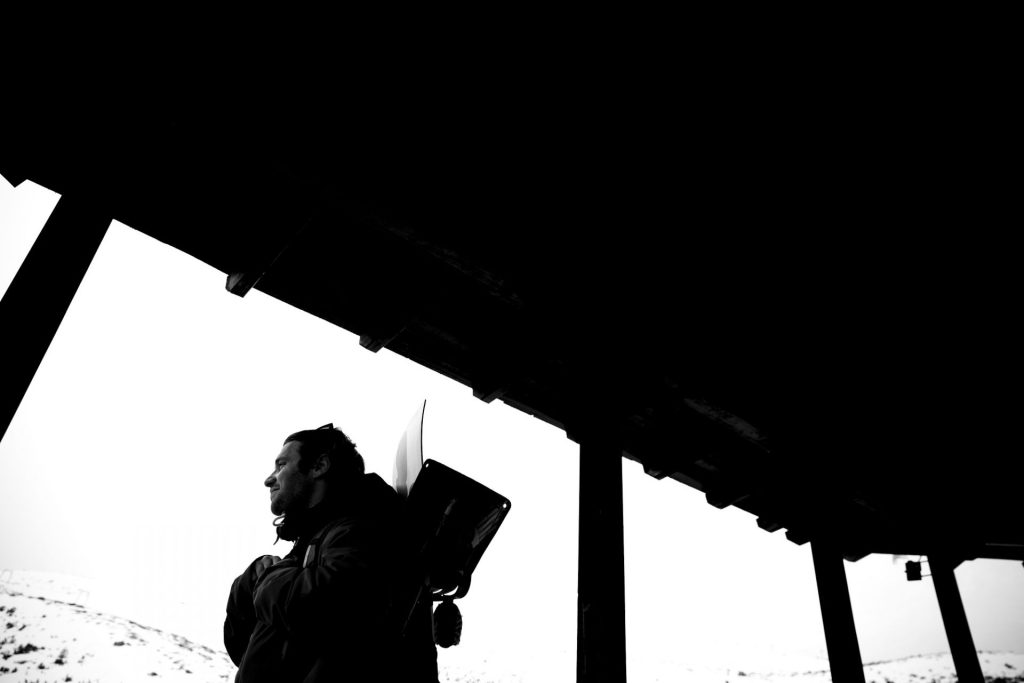 Chapter II
Search
Growing up and having to work more to make your living, tends to shift your mind away from the things that you really love and make you feel happy and free. The deeper search in locations already known wakes up that feeling of rebirth and connection with the mountain. We got blessed with a heavy snowfall in Vasilitsa in the middle of the trip and decided to explore the "already known" slopes but from a different angle.
Chapter III
Perspective
Snoozing the alarm was our biggest fear for that night's mission. It was the coldest night of the trip but at the same time the most beautiful of them all. The sky was clear and full of stars so bright that it seemed we were walking on the moon. Our motivation for the hike soon became stronger and we made it to the peak slightly earlier than expected. After a short rest, we strapped in our boards on the backpacks with Gatekeeper Straps and when the first sun ray hit the slope we dropped into the line that would shift our perspectives of snowboarding forever.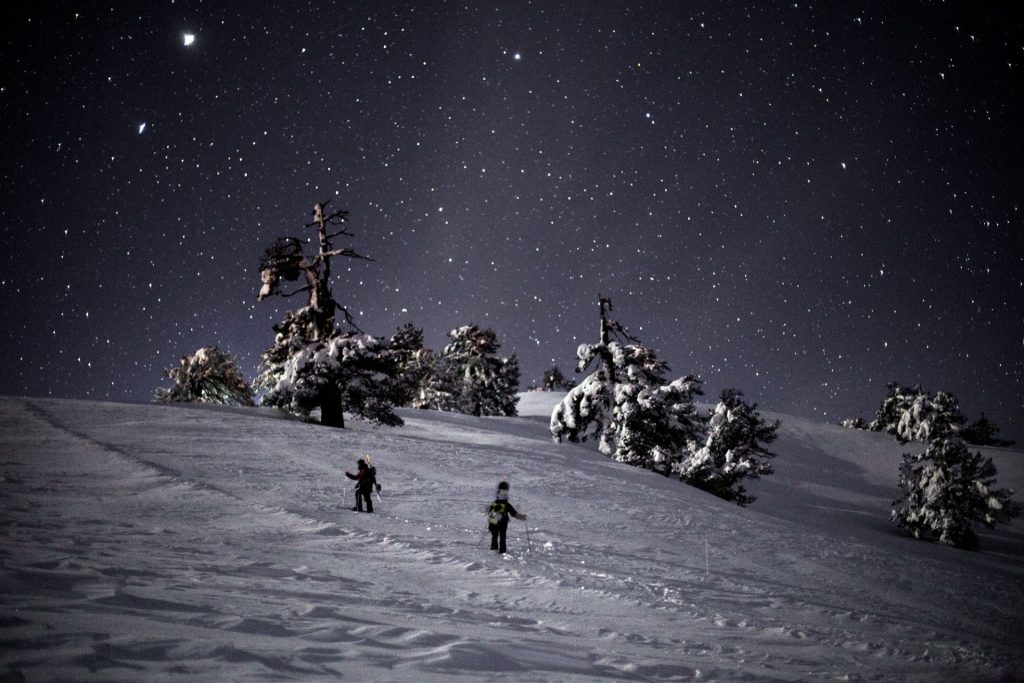 Chapter IV
Down days
Making every day count was the main idea since day one. Downdays came with heavy rain on the mountains and it was time for us to hit the road. On the way to Metsovo, we made a 180-degree turn and drove even further north to the Prespese Lakes. We got to experience the life of local fishermen and saw farmers burning their fields to prepare them for the following season in a place that stood out from the rest of the trip. Needless to say, we had the best feast on the whole trip.
---
Ever since his first skydive, f-stop Staff Pro Jesper Grønnemark had the idea of doing a photo shoot while in the air. This is how it went. Even though as he says, his first skydive was more than enough for him, this idea remained stuck in his mind.
The idea became a reality when Jesper teamed up with the guys from Flux Freefly, gave them a Profoto B1X, and jumped out of an airplane at 13,200 feet to take his photography to new heights.
THE RUSH
His heart is racing, adrenaline is gushing into his veins as the door of the airplane opens. 13.200 ft. (4 km) under him the ground stares back. This is it, one chance, one shot. His grip on the Sony A7R II tightens as they move out the side of the plane, 45 seconds of free fall awaits, 3, 2, 1…
FLUX: Benjamiin Laudrup, Jacob Lundsgaard Madsen and Emil Landeværn Kristensen; Head of the project: Michael Boe Laigaard; Lights: Profoto; Camera equipment: Sony Nordic; Video: Kasper Sveistrup - Frame2film; Graphics: Niels Borup - Saftig; Article: Kira Andersen; Pilot: Fillip Højlund Aarhus skydive club Red Bull Denmark
THE BOUNDARIES OF PHOTOGRAPHY WHEN SKYDIVING
The eternal strive to push the boundaries of what people believe is possible in sports photography has put Jesper Grønnemark in a position he did not imagine himself in again. After his first skydiving experience, some years ago, it wasn´t an immediate love story. Now, here he is again on account of his own creative thinking. Why would he do it again you might ask. Well, the answer is, he needs to. In order to push those boundaries, he is more than willing to put himself in extreme situations.
THE PLAN, AND THEN A CHANGE OF PLANS
How do you make it happen then? In short, you need a man with a plan, and that man was Michael Boe Laigaard, head of the project in terms of finding the right people, and those people came in the form of the Danish national team in free fly - FLUX.
They are the best when it comes to jumping out of planes and falling controlled through the air. The original plan was that they would all have their parachutes out, Jesper with the camera and Benjamiin with the Profoto B1X flash. It would have been easier to track the skydiver, or Mr. Bill as the "model" is called in skydiving, through the air. However, shortly before the jump, it was deemed too dangerous due to wind and the plan changed to free fall. This new challenge was going to put an even greater demand on Jesper's skills as a sports photographer since they only had one jump and now had to nail the shot in a fall going 200 km/h.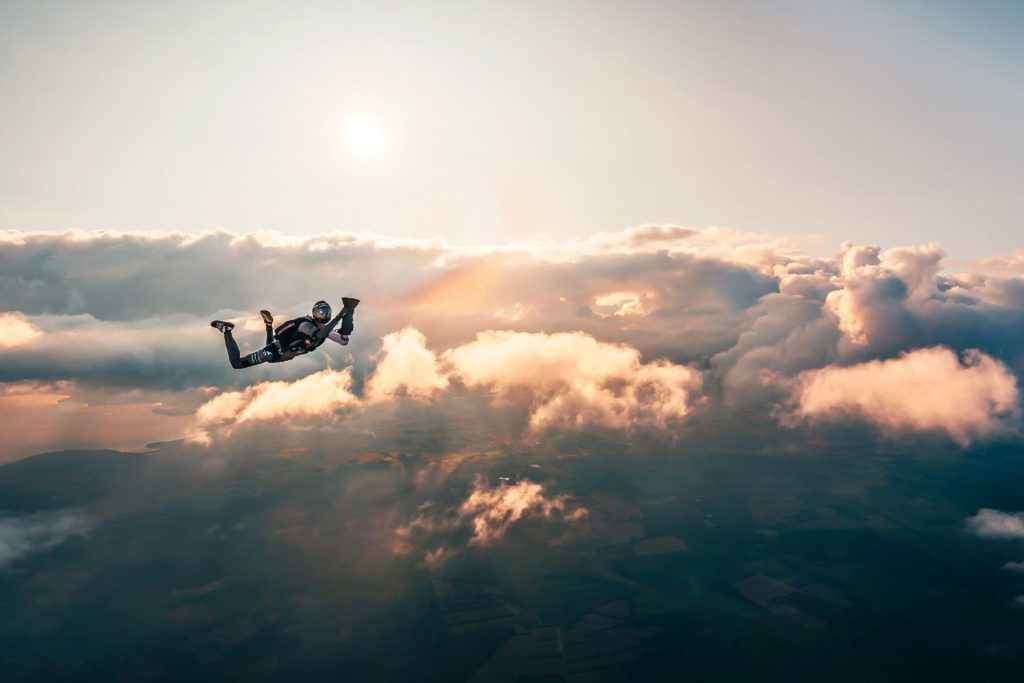 Benjamiin with the Profoto B1X flash
THE FALL
GO! As Jesper is falling through the air, he sees the skydiver approaching from above, he gets his camera in place and suddenly he is cool, calm, and collected. The workflow is such an integrated part of him, that even in a time like this, it overthrows the adrenaline rush. Furthermore, he only has one shot, so he better make it count! The skydiver is head down, shots are fired, and not long after it parachutes out and a touchdown. Fingers are crossed on all parts. How did it turn out?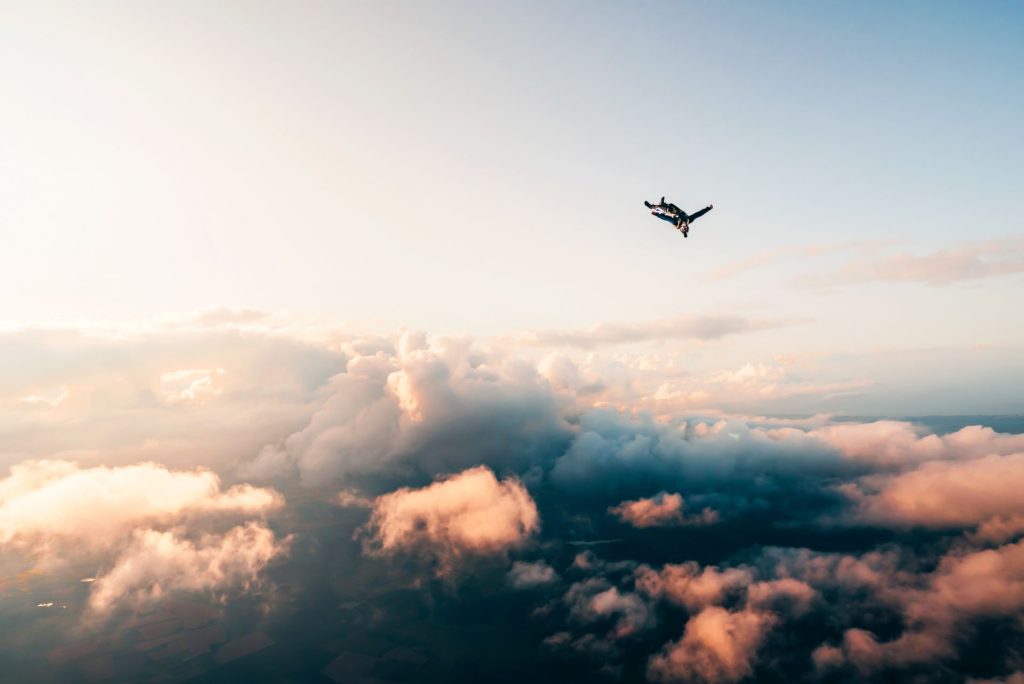 Emil approaches and gets into position for the desired skydiving photo
I only have one Shot, One Jump..and that's it. Once I got my camera to my face while flying through the air at 200 km/h, I was focused. There was no sound, no sense of falling and I didn't feel @michaelboelaigaard on my back.
My only mission was to get the shot!
Jesper Grønnemark
THE FINAL RESULT
Once again Jesper proves that hard work and quite a bit of sacrifice pays off. A lot of planning went into this shoot and even so, they changed. However, it was for the best. Jesper got the image he originally envisioned! A man hanging in the air above the clouds, head down. It feels as if it would be safer if his head was up, but when trying to capture the emotions of a skydiving experience, safe is not part of the vocabulary.
Skydiver Emil from FLUX heads down above the clouds at Sunset
Shot with Sony a7r II | Sony 24-70mm f/2.8 GM | Profoto B1X | SHUTTER SPEED: 1/1600, APERTURE: 10.0, ISO: 640
The Skydiving Team
The Skydiving Team from FLUX; From Left to right: Jacob, Benjamiin, Emil
Benjamiin was the one holding the Profoto B1X at the free fall at Jesper's skydiving shoot. It isn't normal to skydive with anything in your hands, but Benjamiin is an experienced guy, who already tried skydiving with fishing nets, fruits, and other crazy stuff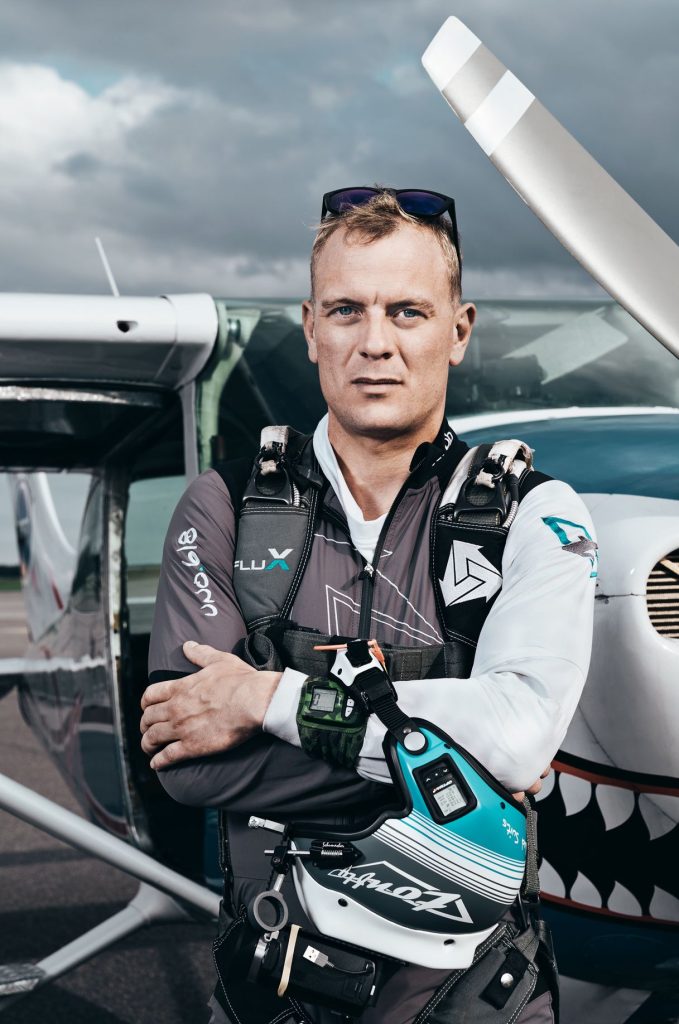 Jacob's role is to film Emil and Benjamiin from a close distance using a helmet-mounted camera while they perform. He usually does that by being flat in the air with his back facing the ground. He was also the one filming me from the air for the behind-the-scenes video for my skydiving shoot.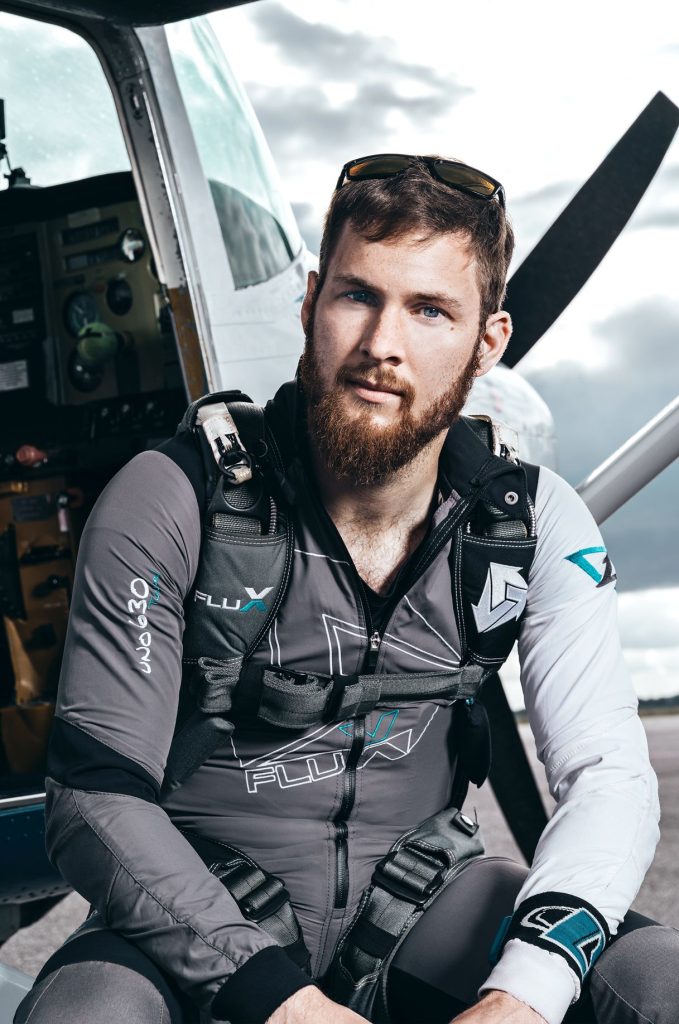 Emil was the athlete in front of the lens at Jesper's skydiving shoot. Emil recommended shooting him while he is doing a trick easily described as a front layout from the belly - a reversed Jesus rising to heaven. Jesper loved the idea because it starts a lot of thoughts at the one looking at the image when a guy is flying head first towards the ground.
EXPLORE THE f-stop GEAR JESPER GRONNEMARK IS USING:
Jesper Grønnemark
Jesper Grønnemark is renowned for his innovative approach to adventure and action sports photography, redefining the genre's conventional boundaries. See more of Jesper's work!
---
---